For every AFL Grand Final, an off-field narrative emerges. The fairytale of the Bulldogs in 2016 still captures hearts and minds as one of the most poignant, but 2019 sees a captivating story at the other end of the scale.
One of a big, big sound – and its emergence from the West of a town.
For those not invested in the AFL and culture that it creates, the big, big sound relates to the club song of the GWS Giants. Written by ARIA award winning musician and member of the Cat Empire Harry Angus, music critics have reliably stated that the song "slaps".
HPN's own music taxonomy places it as being relatively unique – an outlier for new club songs. It is an original song, but much more than any other it's successfully echoing the old club songs in spirit, written deliberately to be sung at pace by an excited team of unmusical footballers. It doesn't, however, follow the old style. Where those fusty old footy songs songs are barbershop renditions of century-old pop or American patriotic songs, Angus's creation is high tempo, minor key, and cops a bouncy and very brassy German oompah style of group vocals.
For the past week, the internet has been awash with the embrace of the big, big sound – in an "It's Coming Home" type style. HPN tracked down one of the originators of the meme, to talk about how it took off.
HPN
How did you and Lex come up with it? Was it you or her who did the first sound?
From memory we were both barracking for GWS in the prelim, and had made a couple jokes about it, but this was the first Big Big Sound meme: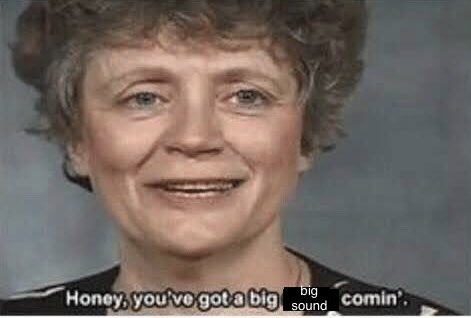 Joe🎺Cordy
That one was from Lex, this car one was me:
HPN
Haha. Why big big sound?
Joe🎺Cordy
Honestly it literally just came from that meme, and then no other part of the Giants identity worked as well for a meme.
HPN
On identity, you chucked the Homer pegs one up suggesting that there's some nasty stuff behind the surface.
Control the narrative bby pic.twitter.com/mgjMSal3Pu

— Joe🎺Cordy (@JoeCordy23) September 25, 2019
Is it hard to keep it almost all big big sound related? And is there any thought of being anti-Giants as a Swans fan?
Joe🎺Cordy
Yes and no. There's little to nothing else about the Giants that's particularly appealing to most neutrals, but people have gotten around the BBS memes so much that that doesn't really seem to matter.
Most of my thoughts on the Giants are positive because of what they represent for Sydney football. There's a lot of specifics about the club I don't like, but the concept of a Western Sydney based team in the grand final giving us a legitimate local rival is massive.
HPN
What is your favourite one so far?
Joe🎺Cordy
Very tight between this and a couple others:
#AFLGF#NeverSurrenderpic.twitter.com/Z82t9GfoHV

— JJJ (@JJacko11) September 25, 2019
HPN
Did you see it taking off?
Joe🎺Cordy
Honestly I almost didn't post the first one because I didn't think anyone would get around what I considered an in joke between me and a mate.
HPN
What do you reckon of the tune? Does it slap?
Joe🎺Cordy
My opinion is there's only two groups of people that don't consider it the best in the league: Richmond fans and those without an excuse for being so wrong.
Which grand finalist has the best club song?

— grug stan (@sicksadhack) September 26, 2019
HPN
Hahaha. This isn't the first thing you started, or were on the ground floor for, that took off. You were at least partially behind the Lopez chants at USA v Canada last month, right? That broke globally I think – ESPN ran with it.
Accidentally deleted it, so here it is again! 'LOPEZ, LOPEZ, LOPEZ' – Australia challenges you to replicate this love for Brook Lopez @Bucks@KanePitmanpic.twitter.com/wpNQCmVW61

— Adrian Arciuli (@Adrian_Arciuli) August 26, 2019
(Note, the chant Joe started led the USA Coach Gregg Popovich to put Lopez on court.)
The Milwaukee Bucks big man saw little game time through the first three quarters, on Monday but the crowd chanted his name throughout the fourth, before coach Gregg Popovich put him into the game in the closing minutes, to a huge roar of approval.

"He was trying to fight it a bit but he finally acquiesced," Lopez quipped.

Popovich admitted as much, though like Lopez, he couldn't work out why the crowd showed such passionate support for the Bucks centre.

"What the hell was that all about?" Popovich said.

"We screwed with it for a while, we were trying to keep our focus, because we don't want to make anything silly.

"But, it got so ridiculous, that we finally, we succumbed to the crowd."
Joe🎺Cordy
I'm an influencer.
😎
The crowd had already declared him the people's champion but the noise was dying down a little bit, so I cupped my hands around my mouth and shouted "LOOOOOPEZZ". Next my brother beside me did, then about a dozen guys within ear shot of us, then the whole stadium.
HPN
Wow. Which thing is bigger?
Joe🎺Cordy
The Lopez chants got a run internationally, but I'm gonna give it to the Big Big Sound on account of the fact it's been going for four days.
HPN
And what's your prediction and hope for Saturday?
Joe🎺Cordy
Prediction?
(Also the hope is GWS)
Look at this. He has gone full nuff. pic.twitter.com/86dvUPDc0E

— Bo Bannie ⚪️❤️ (@anniedundun) September 26, 2019
Without a doubt the best part of starting a meme is how many people tag you in/send you memes.
Well there's a big big round up
credit to @djx1984 pic.twitter.com/b0FE4FB2iR

— big, big sound respecter 🎺🧡 (@lex577) September 24, 2019
[Slaps roof of the West]
This bad boy can fit such a big sound in it

(Idea credit: @CapitalCityCody) pic.twitter.com/4b3d6GcPuz

— Joe🎺Cordy (@JoeCordy23) September 25, 2019
— The Arc (@TheArcFooty) September 26, 2019
— Ethan (@ethan_meldrum) September 25, 2019
Richmond fans vs the #bigbigsound pic.twitter.com/evzvFdfVKu

— Josh Elliott (@JoshElliott_29) September 26, 2019
— Joe🎺Cordy (@JoeCordy23) September 25, 2019
When the Giants get up on Saturday #bigbigsound #AFLGF #neversurrender pic.twitter.com/pHIfzzim4h

— Dan Smith (@feastofdan) September 26, 2019
— Ben Raue (@benraue) September 25, 2019
Good luck to @GWSGIANTS ahead of their Grand Final on Saturday. We know the #bigbigsound has been doing the rounds but we like this one better 😜#WEARECBR #BadandMean pic.twitter.com/Zv8A3Vbhzq

— Canberra Raiders (@RaidersCanberra) September 26, 2019
Girls only want one thing and it's disgusting (to hear the big big sound at the end of the 2019 AFL grand final)

— holly (@holfordandDUMB) September 25, 2019
When the Giants get up on Saturday #bigbigsound #AFLGF #neversurrender pic.twitter.com/pHIfzzim4h

— @your.call on Instagram (@feastofdan) September 26, 2019
this GWS #bigbigsound meme is the greatest thing to happen all year pic.twitter.com/mDNdDyfwRE

— taysha✨ (@AuntTaysha) September 26, 2019
#AFLGF #bigbigsound pic.twitter.com/Y5aRaONXMa

— Alex Chu and 105 other people (@_AlexChu01) September 26, 2019
I had to.#bigbigsound #AFL #AFLGF @GWSGIANTS pic.twitter.com/7hOgx4UZze

— Shelley⚓ (@wheresshelly) September 26, 2019
i'm shaking and also quaking in my boots before the #bigbigsound pic.twitter.com/cW6KeWA86x

— ℭ𝔬𝔲𝔯𝔱𝔫𝔢𝔶 (@courtwhip) September 26, 2019
(•_•)
<) )╯ big
/

(•_•)
( (> big
/

(•_•)
<) )> sound
/

— Ethan (@ethan_meldrum) September 26, 2019
Richmond fans vs the #bigbigsound pic.twitter.com/evzvFdfVKu

— Josh Elliott (@JoshElliott_29) September 26, 2019
https://t.co/GkhRn83xQd pic.twitter.com/eMZCopf926

— Joe🎺Cordy (@JoeCordy23) September 26, 2019
I said Bulldogs Twitter, DO YOU KNOW THIS SONG pic.twitter.com/mUh9FnzmEH

— Joe🎺Cordy (@JoeCordy23) September 26, 2019
'coach? i keep hearing a big big sound' pic.twitter.com/nRlybW27vq

— claire (@cloxic) September 25, 2019
#BigBigSound #NeverSurrender #AFLGF pic.twitter.com/d80y4EMCzV

— California. (@TheSaucePot) September 26, 2019
— Rudi (@RudiEdsall) September 26, 2019
Well there's a big, big sound.#AFLGF pic.twitter.com/efg9OesUnw

— Basil Zoccali (@BasilZoccali) September 26, 2019
therapist: and what do we say when we feel like this?

me: well there's a big big sound

therapist: no

— claire (@cloxic) September 25, 2019
more big big sound #aflgf pic.twitter.com/0jR8T3jjQl

— Stuart Fazakerley (@stuartfaz) September 26, 2019
Legit question for those local to Parramatta – How do I deal with the 30-50 decibels of sound coming from the west within 3-5 mins while my small kids play finals?

— big, big sound respecter 🎺🧡 (@lex577) September 26, 2019
just mute me already, it's gonna get worse from here pic.twitter.com/58wETgP3zP

— big, big sound respecter 🎺🧡 (@lex577) September 25, 2019
Drake going orange wow pic.twitter.com/RFJhurzp0n

— Cody Atkinson (@CapitalCityCody) September 26, 2019
Sorry pic.twitter.com/JLRgneEXhM

— Cody Atkinson (@CapitalCityCody) September 25, 2019
anyone done a whacking day one yet? #BigBigSound #AFLGF pic.twitter.com/N8YL6Gqlfw

— Bread Bags McChav (@CHAVinBelmont) September 26, 2019
Finally:
So how's your week gone? pic.twitter.com/hWAnq9kr0F

— Joe🎺Cordy (@JoeCordy23) September 26, 2019