HPN on ABC
This week on ABC, HPN looked at how the battle of tall forwards and defenders has changed over the past few decades. It's worth a read!
The above video looks at Darcy Moore's opponents against Carlton last week. It's clear from watching the game, and the vision above, that the days of match-long 1v1 battles are gone. As an estimation, McKay and Moore spent about 60-70% of the game against each other, but that often shifted within possession chains.
Defence is no longer just one defender stuck on one forward – it's far more fun than that.
Can these sides keep it up (probably not)?
Although we are just two rounds in, there's some blistering early stuff emerging. Stuff that probably won't continue for the entire season.
Sydney's surprising early season success has largely been underwritten by their success in attack, and specifically in their ability to find targets inside 50. The Swans are kicking more goals per inside 50 than any other team, outstripping their ability to find general scoring shots per inside 50. This feels a little on the unsustainable side, they're not likely to score 120 points every week. Their methods of movement will surely be scouted and countered. However, with new blood around the ground, and the full compliment of available talls, their attack is finally more potent after a few years with a transitional attack.
At the other end of the spectrum, their citymates GWS have struggled to both find targets up forward and convert their inside 50s to goals. Running with just one experienced KPF for most of the season to date (Himmelberg), their fortunes should change as Jake Riccardi, Jesse Hogan and potentially Jeremy Finlayson return to the side. Zach Sproule looked OK last week, but GWS desperately need to find another tall target to diffuse the load currently falling on their smaller forwards.
At the other end of the ground, Gold Coast have been denying opponents at near record rates. This is helped by facing the hapless North Melbourne last week, but their defence looks solid so far. They've produced good defensive numbers early in some previous years, with many of the same personnel, so it remains to be seen whether this early season form holds up. Fremantle sit third for least goals allowed per inside 50, but the high rate of marks conceded in their defensive 50 suggests they have been a little lucky on that front.
At the far end of the scale, Brisbane's defence has struggled so far, and didn't look amazing for much of the game against Collingwood last night. They're conceding a lot of marks and a lot of scoring shots. Chris Fagan may need to have a look at this midweek to see how they can stop opponents in the air, and when the ball hits the deck.
Rules chat
The AFLM season is only two rounds (and one game old) and already the recent changes to the rules by the AFL have been deemed a success…by the AFL:
Aside from the obvious conflict of interest involved (and not raised), longtime readers of this website should know that a decent sample size is needed before any judgements are made. HPN, alongside James Coventry, brought this up when the last major batch of rule changes were introduced, and subsequently failed to make the intended impact.
This is starting to become a trend for the AFL administration – declaring success before it could possibly be known.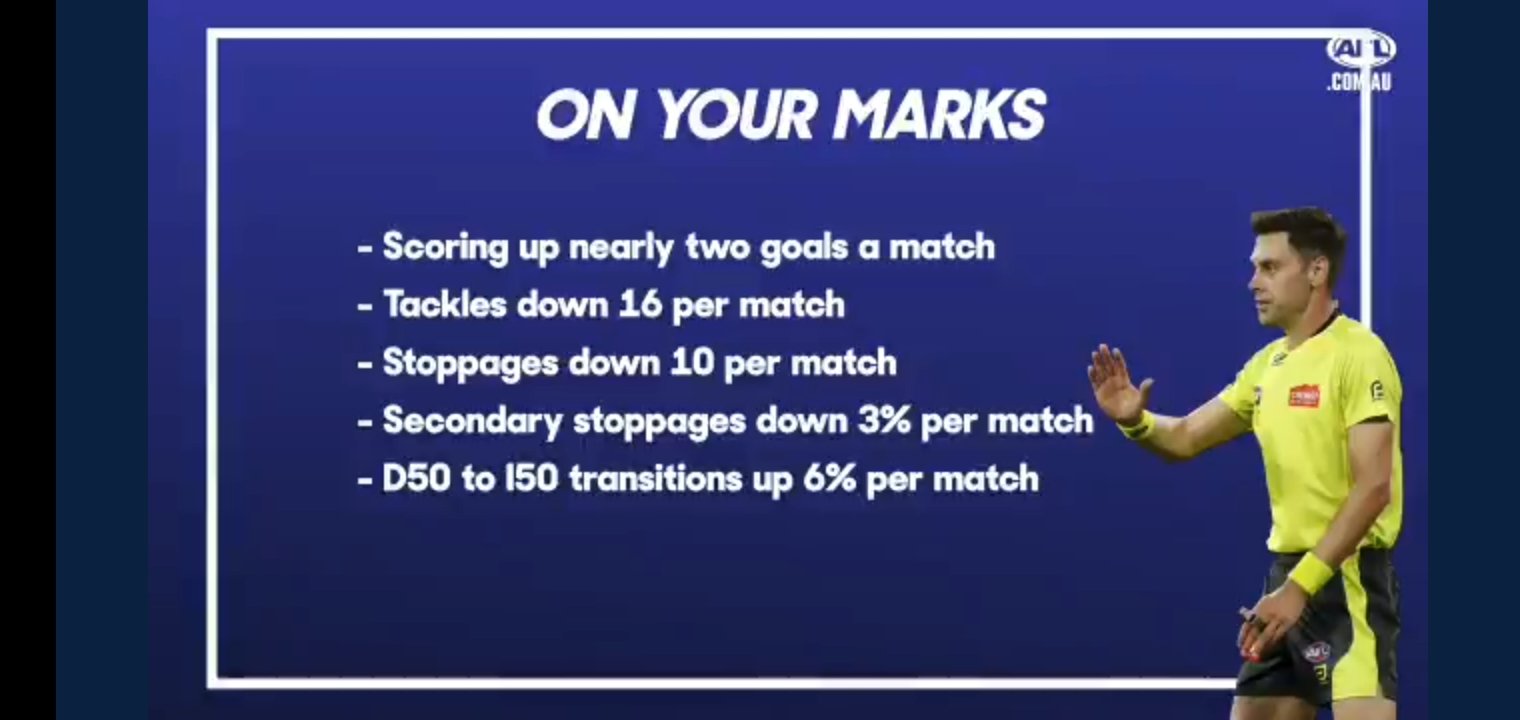 Some of the claims made here by Damien Barrett don't even make conceptual sense. For example, allowing for a moment that "secondary stoppage" numbers have indeed fallen by enough that it's not just random movement, how would fixing the player on the mark to a single spot possibly influence the rate at which stoppages are inconclusive and end in a second ball up, a situation where no mark will have occurred?
The absolutely fantastic Richard Little raised this on twitter a week ago (worth reading the whole thread):
Richard's subsequent point – that trends tend to bounce back after round 1 – happened across a lot of the game this year. HPN understands that in particular the transition numbers from round one dropped to near average last week.
The rule changes may work, but you'd be a fool to definitively say so after 18 games of footy.